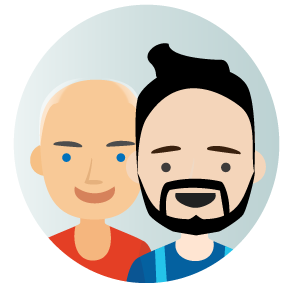 ChatTemplates.com is a collaboration between Paul & Scott. With the help of several smart geniuses they make the templates you'll find in this store work wonders.
Scott & Paul together have about half a century worth of knowledge about marketing, ecommerce, software and customer satisfaction in general. It is no surprise these two were able to make this project what it is: a beautiful, fast and above all, helpful marketplace where people can come and shop for templates to make their lives easier and their projects more awesome.
Whereas one loves being the "authority" of all cool things chatservices and chat automation have to offer, the other likes making things work great from the background point of view. The ideal combination!
Chattemplates.com is a great way to find your ideal chat automation template and start utilizing it for your own business (without reselling it obviously. One download = one client, for which we say Thanks for playing nice!).
As chat automation is fairly new in the conversational marketplace, as is expanding our store. We have many great things to come in the next few months. Things that will benefit all of the users, buyers and even people not doing anything with chatbots themself. You'll all learn to love our chatbotshop!
Happy Shopping and start dominating the messenger World!