Manychat Abandoned Cart Catcher

for Woocommerce [plugin]

The ManyChat Abandoned Cart Catcher plugin allows you to send your lost customers a message with Messenger via Manychat in able to get them back in your store and finalize their order.

The checkbox widget will save your customer info and we will initiate the message you setup in the setting dashboard in your Woocommerce installation.

We will track your conversions with the ManyChat conversion pixel. A trigger will send you newfound customer a thank you note upon a completed purchase.

Start retrieving more sales with the WooBotify Cart Catcher for ManyChat!
☑️ Send ManyChat messages to abandoned carts
☑️ Create your messages from the plugin dashboard
☑️ Creates coupons to send with the message (optionally)
☑️ Coupons Automatically Added/Activated (optionally)
☑️ Fire ManyChat purchase pixel events on the fly
☑️ Trigger "Thanks for your purchase" flow on triggered event (included in the template)
☑️ Uses Modal Pop-Up Widget
☑️ Uses Checkbox Widget
☑️ Optionally Turn Off for European countries
Important: EU residents will not be automatically added to ManyChat as a subscriber, but they still get the abandoned cart messages with this plugin. However, because they are not added as a subscriber, they will not get the "Thank You for your Purchase" flow.
NOTE: This woocommerce plugin is a subscription and has a 7 Day trial period, you're charged after 7 days unless you cancel before your trial ends
Yearly subscription is currently 52% cheaper than the Monthly subscription
The Manychat Abandoned Cart Catcher plugin requires:
• WooCommerce
• PHP7
• ManyChat Pro
• A ManyChat API key (comes with Pro)
• A license key for Woobotify (the product you're watching now)
Don't have ManyChat Pro yet? Contact us and we can help you test it for 1 month Free of charge!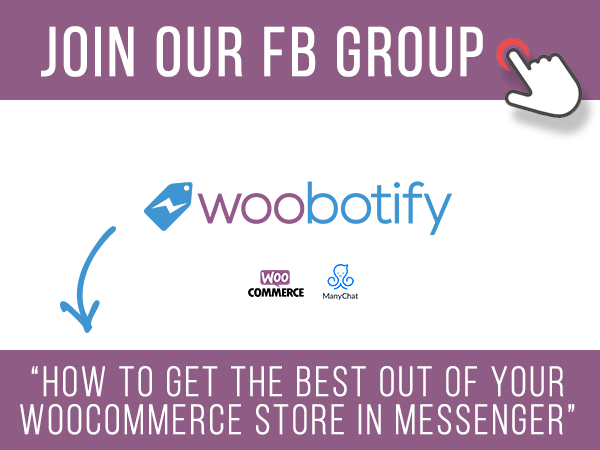 Additional Installation & Support can be purchased here