Send Subscribers from ManyChat to Mailchimp including Merge Fields
The native Mailchimp actions by ManyChat is great, but it lacks the much needed functions to save merge field data, like tags or custom fields.
With this 100% integrated flowbuilder action, that shortcoming is in the past! Now you can send subscribers from ManyChat to Mailchimp INCLUDING tags, this simple feature will save you money by being able to seperate your listdata, while still only needing 1 list.
Fully Integrated in ManyChat Flowbuilder via Actions
Synchronizing your Opt-In ManyChat subscribers has never been easier than with this Easy to Use 1-Step action integrated in your flowbuilder! Just enter your Mailchimp API key and enter the other settings in the action menu.
Here's how you setup the "Mailchimp Plus+" Action in your account:
1. Install the sample template flows to make your life easier
2. Install the ManyChat App from the AppStore, or Directly with this link
3. Enter your Mailchimp API key and server prefix ChatTemplates.com License Key (or the CHIM50 key to try for free (50 uses / month))
4. In your flowbuilder, select the Action menu and select the "🐒 MailChimp Plus" action.
5. Select your List, Action, Phone fields and optional comma seperated Tags.
6. Map the custom field if you want to see the result of your actions (not recommended in production flows)
7. Run the flow, test your links and off you go!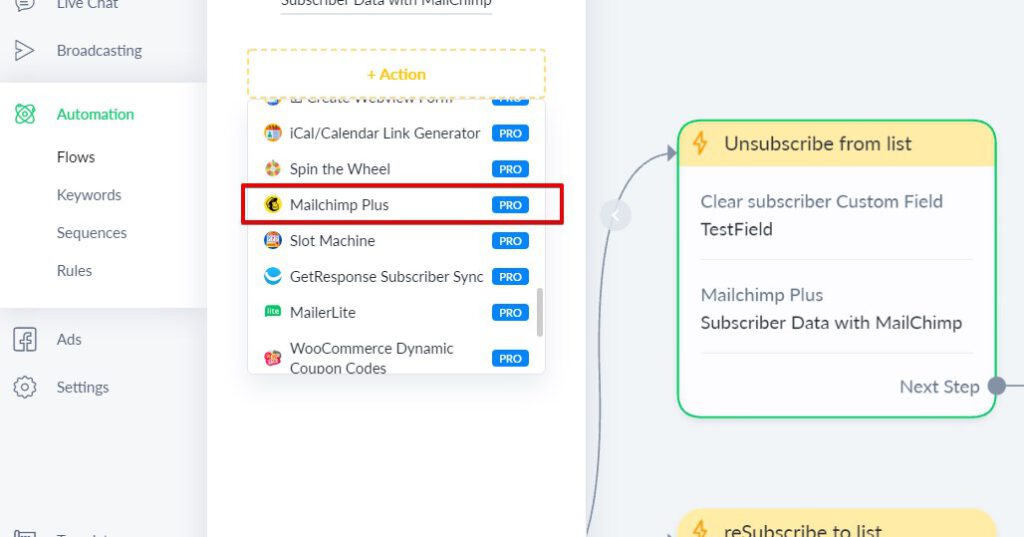 NOTE: This is a membership for the usage of the ManyChat action for a single Facebook™ Page