Ultimate ManyChat App Store Package – All In One Deal
If you own an agency and need to demonstrate the best your messenger chat can do, this is the best offer to get. It includes all our AppStore Flowbuilder Actions we create and will save you hundreds of dollars in subscription fees yearly.
We are only offering this at special occassions though, so when you see it GET IT!
The special box contains an access key that will give you access to these ManyChat Apps:
Unlisted Bonus Apps
Fortune Cookie
… more coming soon
Combined price of these apps is currently $2366
That's not all! Those are just our First 18 Apps.
You will also get access to all our future Apps as those are all included in the package, so CLOSE your DEAL right now, before we increase the bundle price.
Fully Integrated in ManyChat Flowbuilder
Forget about going outside of your flowbuilder when making your awesome chatbots.
Nifty? Good-Bye!
HTML Form builders? Good-Bye!
Coupon creating in Woocommerce? Hell no, do it in the flowbuilder!
Enjoy 12+ Actions for your ManyChat bot and build with ease. Carefree botbuilding is what will SAVE you time, thus money. Plus your bots will simply be better organized, smaller in size and do more for you out of the box.
Building for a client? Each Action can be installed 100% free so you can build the bots, hand it over to your client and they can use their OWN license keys from there on.
We'd like to keep it simple for you, together with ManyChat, we seem to have pulled that off.
Start Building! It just got a whole lot cooler!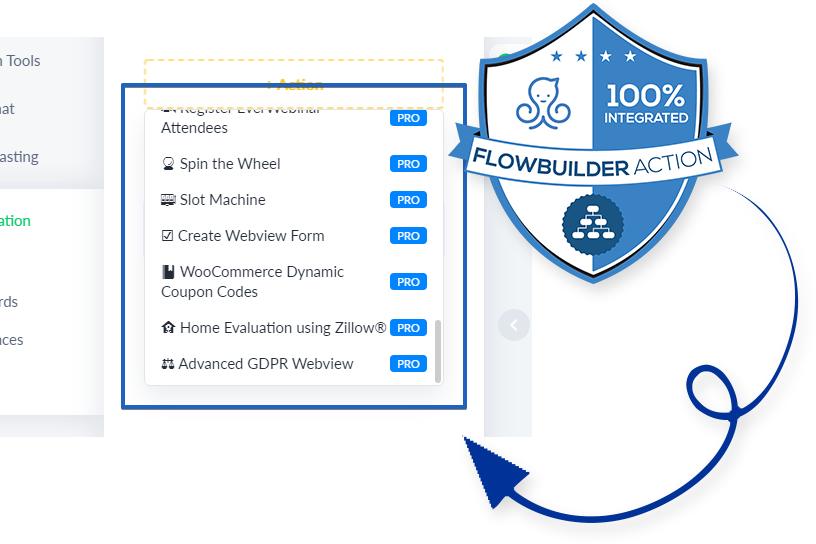 Frequently Asked Questions
Does this license work for unlimited pages?
No. As with all common software/SaaS licenses, this license key is for 1 ManyChat account/Facebook page.
However, you CAN use the license for another page for each App. For example: if you use dynamic images on page A, and a webview form on Page B, then that is possible.
The First time you use the license key on a page, the unique match "key <> page" is created. You can use the Free token in the App settings to test it on any page, once you decide to use it on the page "for real", just change the Free token to your license key.
Why do I need a license for each account?
We spend a lot of time developing our Apps and the cost of running and maintaining the Apps are ongoing. Each install of the App requires more server resources. It's for your own benefit that we can upgrade server resources when needed.
You don't want your client's project to stop working just because we gave licenses away resulting in a non-working servers because of overloaded resources and no funds to maintain them.
Really, it's win-win.
Can I get a discount for multiple licenses?
Yes, and No.
We'd like to invite you to our affiliate program, where you can earn back up to 30% commission of the sales you make. If you need to buy new licenses for your agency clients, you can decide to reduce the cost of your work / license by the amount of your commission. That is up to you.
If you need more licenses for your own business, please contact us. The First license is always the price you see on this page, a second or more license may be obtained at a discounted price.